Pre Purchase Vehicle Inspections
Incar Automotive Ltd established 2008.
New Zealand's most comprehensive and detailed inspection on the market. We thrive on going that extra mile to cover the vital areas of your next vehicle that others miss or do not include, our service is not oversold by a fancy website just pure facts based on the vehicle's condition.
I Carl will take all phone calls, do all inspections, complete all reports, answer all questions and write all contents on both this website and my google maps website. you will see similar contents and information on other inspection company websites.
Get the most comprehensive pre-purchase vehicle inspection offered in Nz guaranteed! No other inspection company takes as long to accurately inspect and report the condition of the vehicle as Incar pre-purchase vehicle inspections. Inspections are limited to 3-4 vehicles per day not 6-8 like other companies.
Incar has invested over $100k worth of stock, tools and highly advanced up to date equipment for your benefit.
Phone Carl: 0276946227
international clients: +64276946227
8am-1am (Nzst) for bookings
Email: incarmobile@gmail.com
NZQA (Nz) and MVRIA (Aus.) qualified Automotive Engineer since 1994.
Warrant of fitness standards inspector. wof items are checked according to the law.
https://www.youtube.com/user/Incarmobile
1000 plus video's of real tests, not just boxes ticked
Highest rated genuine non-3rd party reviews on google by Google users in Nz who have employed and paid for our services.
As of 18-6-2018
Japanese vehicles start @ $175 for mechanical inspections (excludes interior) and $185 for full inspections. 3-4hrs in total
European vehicles start @ $185 for a Mechanical inspection (excludes interior) $195 for full inspection. 3-4 hrs in total
Modified vehicles start @ $195, hrs unlimited
Prestige and exotic vehicles, please consult for pricing. hrs unlimited
Hybrid vehicles, start @ $195 for a full inspection, includes battery life remaining test, battery health test and also all live hybrid/battery data of cells, ohms, voltages, temperature etc. all data recorded and emailed to you. 3-4 hrs, vehicle covered for battery health/life remaining tests-
1. 2016-2018 Prius Gen4, 2. 2009-2015 Prius Gen3, 3. 2003-2009 Prius Gen2, 4. 2001-2003 Prius Gen1, 5. Auris, 6. Mirai, 7. Prius C, 8. Camry Hybrid, 9. Avalon Hybrid, 10. Highlander Hybrid, 11. Lexus CT200h, 12. Lexus ES300h, 13. Lexus HS250h, 14. Lexus RX400h, 15. Lexus RX450h, 16. Lexus GS450h, 17. Lexus LS600h. 18 All Aqua's.
Honda Hybrids– using dealership-level diagnostic scanners the battery will be tested via self-test, these tests will provide information of any past cell failure.
Electric vehicles, start @ $185 includes SOH (state of health) battery test with percentage results and data analyzed (all Nissan Leaf Vehicles), number of fast and slow charges, all battery live data recorded and emailed in pdf which includes pages of live data for future reference using up to date dealership-level diagnostic scanners. please note battery refresh resets are happening to momentarily increase battery life remaining SOH test results, not so much in Nz yet if you are concerned incar will advise you on the tests required after purchasing. 3-4hrs
Mechanical inspections start @ $175 excludes interior but tools/spare tyre/inflation device, structure etc. checked so if you have viewed the vehicle and are happy with the interior then a mechanical inspection will cover the rest of the vehicle.
Plus travelling fees, example Henderson will incur a $15 travelling, Albany $15 travelling fee. Papakura $15 travelling fee, Botany $15 travelling fee, Penrose, Greenlane, Otahuhu, Mt Eden etc. no travelling but you will be advised.
I can't inspect vehicles at the following premises or will not deal with the following companies, it appears these dealers don't want their cars inspected to incars standards an opt for quick inspections.
Pearce brothers, except for takanini branch, banned from finding too many issues, last vehicle (ford transit) was leaking diesel fuel, new wof which should have failed wof.
Motorco Penrose, banned from finding safety issues VTNZ missed, the last car inspected was a statutory written off Japanese import, Simon the branch manager is purely focused on profit, not integrity they welcome all other inspection companies and so-called specialized dealers though.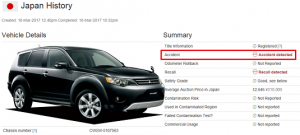 Auto spot Northshore, banned for reporting oil leaking, rust, dodgy repairs
Auto select Panmure, reinstated and can now inspect vehicles there, new sales manager.
Universal motors, banned
Auto Pride Otahuhu, banned for finding a rear quarter panel replacement.
M.I.K motors Otahuhu, physically assaulted by 1 salesman, abused by 4 others for finding an accident repaired vehicle.
Car for you ltd Otahuhu, banned for reporting an oil leak, told to F off
Alpha cars Manurewa, banned for spending 5 mins on a car, called the client, told him it was a rust bucket and only charge a minimal travelling fee. abused by a female salesperson.
NZC (New Zealand cars ltd, north shore/Penrose, banned for finding safety issues VTNZ missed, worn ball joints, exhaust leaks, rust etc, video below.
Urban wholesale Howick banned for finding to many issues, on every vehicle.
DLPS cars Ellerslie asked to leave as they only want AA
U-sell Wairau, banned for not agreeing to the salesman (she'll be right) regarding oil leaks.
U-sell Greenlane, banned by Nick for parking a car in the right place as i was told by Nick, probably banned for spending 2 hrs on a vehicle as opposed to 20-40 minutes he is used to
Auckland camper vans takanini, banned for asking for proof of cam belt being replaced as stated by them, they couldn't provide it so was told to F off.
Auckland city car fair (not Ellerslie car fair), banned and abused for finding wof issues
Pars Auto Limited Backpackers, refuse to deal with this company, too many dodgy wof's
AAA cars and vans east Tamaki, banned for spending 2 hrs on a van, was told AA take 30mins
Raw cars, by choice i wont, be inspecting vehicles there.
Auto direct co, i refuse to deal with the company, every issue turns into an argument.
Incar will provide you with a full detailed report along with a file incar has created for the not so savoy car people explaining what the tests are for.
Items checked is unlimited. pictures taken of almost everything which includes all exterior, dents, marks etc., pictures of all interior, under bonnet components, under vehicle includes suspension, tyres, wheels structure and so forth, generally between 100-300 pictures for standard vehicles. This is a bonus for unseen vehicles and evidence if needed for any disputes with sellers or wof/compliance authorities, disputes tribunal etc.
real engine tests carried out using the same powerful diagnostic oscilloscope that 20 car manufacturers around the world use when developing engines which enable us to provide you with engine cylinder balance tests, relative compression tests where applicable, battery/starter/alternator tests.
We specialise in EXTENSIVE diagnostic scanning. All of our computer diagnostics are uniquely set up to suit each particular make and model to retrieve hidden faults and data that is regularly missed with generic scanning.
Full factory diagnostic ecu (all onboard computers) scanning up to 2019. diagnostic scan results reports emailed to you along with live engine data and where applicable speedometer ecu readings, last code/codes erased (Kms/hrs.) etc., under vehicle pictures of engine, transmission/gearbox, axles, c.v boots, steering system, drive belts, structure, spare tyre, tyre inflation kit, tools, interior pictures, dents marks and scratches, stone chips on windscreen, light lenses, wof items plus much much more!
Inspections take 3-5 hrs. to complete and are valued well over $470 plus GST, this includes driving to the location, practical inspection, preparing the report, unlimited pictures, report and pictures emailed to you. Preferably Gmail.
Please advise private sellers of time required @ their location approx. 1.5hrs and will require their vehicle being parked behind our van, flattish hard surface and an area with room to open all doors, the roadside is fine.
It's easy to book, simply make contact with me then either email or texts me the seller's contact details, a description of the vehicle and your email address, I will arrange an approximate time and location directly with the seller.    our insurance cover has been specially configured an inserted into our public liability insurance cover for vehicle inspections and includes plugging in authorized electronic equipment into vehicles main brain (ecu) hence we don't use cheap code readers for hybrid/ev batteries state of health checks via free apps! Fully insured to work on, dismantle components and test drive vehicles up to $300,000 (market value) proof of insurance can be provided to sellers of higher valued vehicles
Incar uses the latest up to date highly advanced smart diagnostic tools with the most extensive coverage for more than 80 Japanese, European, American and Chinese makes and thousands of models, this gives us exceptional OE-Level diagnostic scanning for your benefit that means we can carry out dealer level diagnostic scanning from the humble 1996 Corolla right up to the latest 2019 Ferrari and almost everything in between!
During the inspection I email diagnostic scan reports, live data reports etc., these are not the full inspection report! also where applicable I will be sending links to videos I upload during the inspection of compression and or cylinder balance tests etc.
Scroll down to see dealers who have banned Incar from doing inspections 😉because our inspections are too comprehensive.
DONT trust any wof or compliance inspection!
Incar does not leave any contact details as in flyers or business cards at any car yard, generally speaking, we are not the most preferred inspection company for most low-end car dealers, it is not uncommon for Incar to remind dealers of their obligations as registered motor vehicle traders! Why would you choose a company from their preferred list of inspectors?
As of 1-1-2019 Incar has withdrawn form inspecting back-packer or freedom camper vans/cars under $8000 and older than 2005 being sold by the private seller which are not self-contained.
Unfortunately due to non-payers payment is due once the inspection has been confirmed with the Vendor.
Cancellation fee, within 24 hrs. of the confirmed time/day a $70 fee will be charged, this is a because other inspections have been turned away, if prior then a full refund will be processed.
Some of the reason Incar gets banned from car yards, these vehicles had recently passed strict compliance and wof inspections.
MUST READ- Deposits: if you are forced to pay a deposit @ any car yard personally write on the sales agreement that the inspection will be done by Incar Automotive Ltd and that you will only proceed with the purchase if the vehicle is up to Incar's standards NOT any other companies, if not you require full refund within 24 hrs., have both parties sign the insert. Ideally, try and avoid paying any holding deposit.
I can't inspect vehicles at the following premises or will not deal with the following companies, it appears these dealers don't want their cars inspected to incars standards.
All Pearce brothers
Motorco Penrose,
Auto spot Northshore,
Auto select Panmure,
Universal motors Grey Lynn/Henderson,
Auto Pride Otahuhu,
M.I.K motors Otahuhu,
Car for you ltd Otahuhu,
Alpha cars Manurewa,
NZC (New Zealand cars ltd, north shore/Penrose,
Urban wholesale Howick,
DLPS cars Ellerslie,
U-sell Wairau,
Auckland camper vans takanini,
Auckland city car fair (not Ellerslie car fair),
Pars Auto Limited Backpackers,
AAA cars and vans east Tamaki
Raw cars,
More to come…..

"Carl was very quick to get the inspection done and the report was very comprehensive. I was well impressed! Carl was very quick to get the inspection done and the report was very comprehensive. I was well impressed!
I will happily recommend this service."

Sandy Plimsole

"What can i say other then this guy knows his stuff! What can i say other then this guy knows his stuff!I have seen several other companies do checks and none as through as Carl, He picked up issues that i was able to use to negotiate a lower price for the car. I cannot recommend him enough."

Nim Patel

"Carls service was great, managing to squeeze me in last minute before a TradeMe auction was closing. His report was very thorough and talked me through any questions I had. I would definitely use his services again in the future and recommend him …Carls service was great, managing to squeeze me in last minute before a TradeMe auction was closing. His report was very thorough and talked me through any questions I had. I would definitely use his services again in the future and recommend him to any friends or family."

Nathan Brown

"Seemed like a honest down to earth mechanic who offered sound and realistic advice. Will use again!"

Jason Chen

"Carl did a couple of pre inspection check until I found the right car. He gave me appropriate advice, excellent communication. He was reliable, on time and professional. Excellent predisposition. In overall I can't ask for anything better. Carl did a couple of pre inspection checks until I found the right car. He gave me appropriate advice, excellent communication. He was reliable, on time and professional. Excellent predisposition. In overall I can't ask for anything better. His service exceed my expectations. A mechanic to trust! I will definitely use his services again."

Vanesa Santos

"I was very satisfied with the report, photographs, commentary and customer service that I received from Carl. I will certainly consider using him again in the future."

Howard Cattermole

"Carl has gone above and beyond the standard pre-purchase inspections given by other service providers. He has proven to be one of the most thorough car inspectors in the region. For peace of mind when purchasing a second hand vehicle, I highly recommend Incar Automotive for your pre-purchase car inspection."

Jahan Ghadami

"I would like thank Carl for all his help with a car inspection. His service was fabulous and communication was AAA plus. He sent through reports photos etc Contacted me after the inspection, he was very informative. He certainly helped with my final outcome pre purchase. I would highly recommend him as he is a very nice and genuine person. I will definitely call him again. Many thanks Rating 10 out off 10."

Cheryl Anstisso

"Thanks so much to Carl. He did such a comprehensive check for pre purchase we were able to make an informed and calculated decision. Carl responded fast, professionally and had a no problem attitude as he invited numerous contact afterwards as various issues were discussed. He took several photos which were very informative to us as we were able to see what he was explaining far more clearly. Thank you Carl we would definitely call on your services again"

Robyn Shellwell

"I recently purchased a late model hybrid listed as a private sale on Trademe in South Auckland. I was particularly concerned how genuine the sale was given the nature of the listing and that I hadn't met the seller. Carl from Incar Automotive had the equipment and expertise to assess all aspects of the vehicle including the hybrid batteries. Carls professionalism and written report provided me the confidence to purchase. For the fee, Incar Automative provide an excellent service that I would use again without hesitation."

James Gallagher
I would highly recommend Incar automotive to anyone. I can't sing his praises enough…